Carmen Alexandra Tanase, Dr.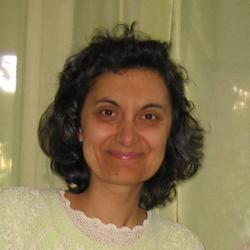 Department:
Molecular Cell Biology
Researcher
Research interests: Molecular mechanisms of multivesicular bodies biogenesis and transport. Exosomes biogenesis, secretion, uptake, and role in normal and pathological states. Discovery of new anti-metastasic and anti-Alzheimer's disease drugs.
Biography
Ph.D. University of Missouri-Kansas City, Dept. Molecular Biology and Biochemistry, 2001. Protein import into mitochondria Post-doc. Kansas University-Medical Center, Dept. Cell Biology and Anatomy, 2001-2004. Role of extracellular matrix proteins in early vertebrate development and diabetic kidney Independent researcher. Institute of Biochemistry, 2005-present. Role of protein tyrosine phosphatases and Bro1 domain- containing proteins in cell-cell communication and signal transduction.
Papers
. "Histidine domain-protein tyrosine phosphatase interacts with Grb2 and GrpL", PloS one 5(12): e14339, (2010)
IF: 4.41AI: 1.90
. "Analysis of molecular determinants of PRL-3", Journal of cellular and molecular medicine 13(9B): 3141-50, (2009)
AI: 1.70
. "Differences in expression pattern and function between zebrafish hoxc13 orthologs: recruitment of Hoxc13b into an early embryonic role", Developmental biology 274(2): 318-33, (2004)
AI: 2.60
. "The expression of tissue inhibitor of metalloproteinase 2 (TIMP-2) is required for normal development of zebrafish embryos", Dev Genes 8(213): 382-9, (2003)