Gabriela Negroiu, Dr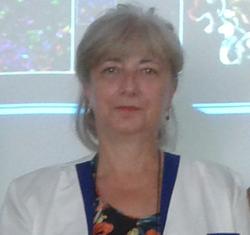 Department:
Molecular Cell Biology
Senior Researcher degree I
Research interests: Tumor biology , molecular drivers in melanoma initiation and progression, melanoma signaling pathways, diagnostic/prognostic biomarkers in melanoma, anti-tumor (melanoma) targeted therapy (nanostructures); Regenerative medicine- non-invasive diagnostic approaches in endometriosis, biomaterials in bone implantology and regeneration
Biography
EDUCATION AND TRAINING Dr. Gabriela Negroiu has graduated from University of Bucharest, Faculty of Biology, Speciality Biochemistry. Her PhD training program focused on the pathological degradation of the cartilage ECM and was accomplished within both Institute of Biochemistry of Romanian Academy (IBAR, Dr. Cecilia Motas) and Dept of Biochemistry and Orthopedics, Rush-Presbytherian St.Luke,s Medical Center, Chicago, US (Dr. Tibor Glant), with thesis " B- and T-cell epitopes with arthritogenic/autoimmune potential of aggrecan molecule" . Dr. Negroiu was awarded by FEBS and EMBO with two Post Doctoral Fellowships within the group led by Dr. Peter van der Sluijs, in the Dept. of Cell Biology, from Utrecht University Medical Center, The Netherlands. She studied proteins involved in traffic of melanosomal proteins/melanosomes/lysosomes and developed advanced experimental methodology (pull-down assays) to study intracellular traffic and protein –protein interactions. AREAS OF RESEARCH AND ACHIEVEMENTS Tumor biology – fundamental research: decipheration of folding, maturation and degradation pathways of melanoma antigens Tyrosinase Related Protein (TRP)-1 and-2 (Dopachrometautomerase/DCT); the exploration of DCT-mediated pathways in melanoma stress-resistance, survival and progression; diagnostic/prognostic: the value of DCT in the assessment of melanocytic lesions; designing and production of a novel anti-DCT antiserum for IHC analysis of melanocytic specimens (patent); therapy : tumor cell uptake and trafficking mechanisms of dendrimeric nanostructures as delivery vectors for compounds with therapeutic or diagnosis potential ; the anti-tumor potential of iminosugars (patent). Regenerative medicine: endometriosis - molecular mechanisms involved in the pathogenesis of this disease, development of non-invasive diagnostic approaches and personalized therapies; bone implantology - cellular processes at the interface of nanostructurated coating materials, development of specific biocompatibility tests; autoimmunity- pathological degradation of cartilage ECM in rheumatoid arthritis; mapping the arthritogenic epitopes of aggrecan; collagen-based biomaterials with biostimulatory and regenerative properties for pharmaceutical and food industry (patents). PROFESSIONAL EXPERIENCE - principal coordinator of national grants/research projects and collaborator in international and national grants; evaluator of the BS, MS and PhD students, coordinator of projects for BS, MS, PhD degree; tutorial/teaching activities within IBAR training programs ; Project Technical Assistance (PTA) for the FP7 Programs of the EU, monitoring activity of R&D projects for the "Nanoscience, Nanotechnologies, Materials and new Production Technologies; member of Working Group on Assistance to Central and Eastern Europe (WOGCEE) within FEBS; secretary of the Romanian Society of Biochemistry and Molecular Biology . AWARDS: Romanian Academy Award "Nicolae Simionescu" ; 2004 Annual Award of the Romanian Society of Biochemistry and Molecular Biology .
Papers
. "Variations in the expression of TIMP1, TIMP2 and TIMP3 in cutaneous melanoma with regression and their possible function as prognostic predictors", Oncology letters 11(5): 3354-3360, (2016)

. "Spectrum of morphologic alterations of regression in cutaneous melanoma--potential for improving disease prognosis", Romanian journal of internal medicine = Revue roumaine de medecine interne 50(2): 145-53, (2012)

. "Cutaneous metastases of malignant melanoma--how difficult can it be?", Romanian journal of internal medicine = Revue roumaine de medecine interne 46(4): 375-8, (2008)

. "Tyrosinase-related protein-2 and -1 are trafficked on distinct routes in B16 melanoma cells", Biochemical and biophysical research communications 328(4): 914-21, (2005)

. "Munc13-4 is an effector of rab27a and controls secretion of lysosomes in hematopoietic cells", Molecular biology of the cell 16(2): 731-41, (2005)

. "The inhibition of early N-glycan processing targets TRP-2 to degradation in B16 melanoma cells", The Journal of biological chemistry 278(29): 27035-42, (2003)

. "N-glycosylation processing and glycoprotein folding-lessons from the tyrosinase-related proteins", Chemical reviews 100(12): 4697-712, (2000)

. "Folding and maturation of tyrosinase-related protein-1 are regulated by the post-translational formation of disulfide bonds and by N-glycan processing", The Journal of biological chemistry 275(41): 32200-7, (2000)

. "Tyrosinase and glycoprotein folding: roles of chaperones that recognize glycans", Biochemistry 39(18): 5229-37, (2000)

. "Mutations at critical N-glycosylation sites reduce tyrosinase activity by altering folding and quality control", The Journal of biological chemistry 275(11): 8169-75, (2000)

. "Investigation of the intracellular transport of tyrosinase and tyrosinase related protein (TRP)-1. The effect of endoplasmic reticulum (ER)-glucosidases inhibition", Cellular and molecular biology (Noisy-le-Grand, France) 45(7): 1001-10, (1999)

. "Protein specific N-glycosylation of tyrosinase and tyrosinase-related protein-1 in B16 mouse melanoma cells", The Biochemical journal 344 Pt 3: 659-65, (1999)

. "Critical roles of glycosaminoglycan side chains of cartilage proteoglycan (aggrecan) in antigen recognition and presentation", Journal of immunology (Baltimore, Md. : 1950) 160(8): 3812-9, (1998)

. "Presentation of cartilage proteoglycan to a T cell hybridoma derived from a mouse with proteoglycan-induced arthritis", Clinical and experimental immunology 100(1): 104-10, (1995)

. "Antigen-specific B cells present cartilage proteoglycan (aggrecan) to an autoreactive T cell hybridoma derived from a mouse with proteoglycan-induced arthritis", Clinical and experimental immunology 101(3): 414-21, (1995)

. "A proteoglycan (aggrecan)-specific T cell hybridoma induces arthritis in BALB/c mice", Journal of immunology (Baltimore, Md. : 1950) 155(5): 2679-87, (1995)

. "The action of the collagen-Fe2+ complex at tissular level", Morphologie et embryologie 35(1): 59-61, (1989)

. "The Multiple Roles of Tyrosinase-Related Protein-2/Ldopachrome Tautomerase in Melanoma", pp 45-83, Human Skin Cancers - Pathways, Mechanisms, Targets and Treatments, IntechOpen, (2018).
ISBN: 978-1-78923-095-6
. "The Multiple Roles of Tyrosinase-Related Protein-2/LDopachrome Tautomerase in Melanoma: Biomarker, Therapeutic Target, and Molecular Driver in Tumor Progression", pp 22-33, Human Skin Cancers: Pathways, Mechanisms, Targets and Treatments, IntechOpen, (2018).
ISBN: 1789230956
View all papers