Mihaela Trif, PhD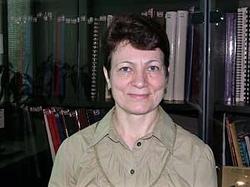 Department:
Ligand-Receptor Interactions
Senior Scientific Researcher
Research interests: Scientific competence in : Technology of lipidic nanostructures (designing of biocompatible and efficient lipidic nanostructures suitable for the therapy of the inflammatory diseases); biocompatibility studies using different cells in culture; liposome interaction with immunocompetent cells; cellular response investigation during inflammatory process; investigation on the biodistribution and the mechanisms involved in the interaction between different liposome system and cell types, through in vitro and in vivo studies; identification of the liposome target. Principal subjects/occupational skills covered: Liposomes as controlled drug delivery system during inflammatory process - competence in: technology of lipidic nanostructures ; cell culture techniques ; biotoxicity studies -biochemistry, cell biology, immunochemistry techniques.
Biography
-BS in Biology/ Biochemistry Section; MSc in Enzymology/ Faculty of Biology, University of Bucharest (1979);
-PhD in Biology, Biochemistry field - disertation title "Liposome as carriers for active principle" / Institute of Biochemistry, Romanian Academy (1994).
Research stages
- University of London, The school of Pharmacy, Centre for drug Delivery Research, UK (Royal Society grant (1992) ;
- Martin –Luther University, Faculty of Medicine, Halle, Germany (1994-1995), DAAD-NATO fellowship
- Université des Sciences et Technologies de Lille, France. Program International de cooperation scientific (PICS –CNRS) (1994-1996
- University of Glasgow, Dept. of Immunology , Glasgow, UK, (1998 , 1999, 2001, 2003 –3 month/year); Royal Society short term grants; Wellcome Trust grant (ref. 065435/Z/01/Z/2001)

Collaborations established with partners involved in national and international cooperation:
-2011-2016- coordinator of international grant-PI- ( Subaward Nr 61369 with LSU Ag Center, Louisiana, USA) in the frame of - USDA NIFA Grant 2011-6702;
- 2006-2008- coordinator of complex grant with ANCS- CEEX 57/2006, NANOCONTER , with 5 partners, (IOB; INSB; University of Bucharest ; IMT- Bucharest; ICECHIM- www.biochim.ro/ib/ceex.php - 1990-2011- Coordinator of more than 20 national grants (Romanian Academy, Romanian Ministry of Research, Romanian Medical Academy, Romanian Agency of Research-ANCS);

-Honorary Research Fellow – University of Glasgow – 1 oct. 1999 – 30 sept. 2000
-Included in "Who's Who Medical in Romania" 2006

-Teaching activity: PhD thesis evaluator ; Advisor of BS and MS training in biochemistry, nanoscience and nanotechnology
Papers
. Lactoferrin in Bone Tissue Regeneration. Current medicinal chemistry, 2019, 12(16).IF=3.89
. Lipid Nanostructures Containing Atorvastatin Decrease Lipopolysaccharide-Induced Inflammation in Macrophages, 2017(Journal of Nanoscience and Nanotechnology).
. Liposomes as Delivery System of Chondroitin Sulfate to the Arthritic Joint by Intra-articular Administration. Austin Arthritis, 2016, 1(3):1011.
. Cytotoxicity and intracellular fate of PLGA and chitosan-coated PLGA nanoparticles in Madin-Darby bovine kidney (MDBK) and human colorectal adenocarcinoma (Colo 205) cells. Journal of biomedical materials research. Part A, 2015, 103(11):3599-611.IF=3.26
. Liposomal formulation of chondroitin sulfate enhances its antioxidant and anti-inflammatory potential in L929 fibroblast cell line. Journal of liposome research, 2013, 23(2):145-53.
. Liposomalization of lactoferrin enhanced its anti-tumoral effects on melanoma cells. Biometals : an international journal on the role of metal ions in biology, biochemistry, and medicine, 2010, 23(3):485-92.
. Designing lipid nanostructures for local delivery of biologically active macromolecules. Journal of liposome research, 2007, 17(3-4):237-48.
. Liposomes as possible carriers for lactoferrin in the local treatment of inflammatory diseases. Experimental biology and medicine (Maywood, N.J.), 2001, 226(6):559-64.
View all papers