Biochemical and cellular investigations on the potential use of affibodies in leukemia therapy
2022 - 2023
Acronym: LEUKEMIA. Grant no.779/14.06.2022
Project director: Stefan Szedlacsek
Fulbright Visiting Scholar Program/ FFC_3-0119.
External website:
full link
Affibody molecules are highly promising therapeutic candidates due to their advantageous features like: small size, efficient delivery, straightforward engineering towards improved formats, site-directed conjugation of payloads, possibility of GMP production by chemical synthesis or inexpensive bacterial production leading to low product costs.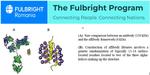 The main goal of this project is to investigate the therapeutic potential of affibody-drug conjugates and bring them as close as possible to the validation of a new class of drugs for some forms of leukemia. The long-term goal of this project is to establish in Romania the critical mass of researchers and PhD students who work, in close connection with scientists from the MD Anderson Cancer Center, on molecular research studies in leukemia.