Stefan Szedlacsek, Dr.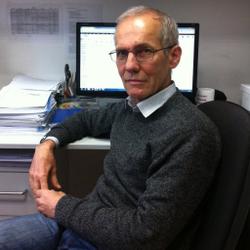 Department:
Enzymology
Head of Department
Research interests: TBA, Researcher | Teaching staff | Scientific reviewer | Manager | Consultant.
Currently working on
Institute of Biochemistry of the Romanian Academy , Bucharest.
Department of Enzymology .
Biography
Professor Dr. Stefan Eugen Szedlacsek is the Head of the Enzymology Department at the Institute of Biochemistry of the Romanian Academy. He holds a PhD degree in Biotechnology from Polytechnic University of Bucharest as well as a MSc in Organic Synthesis (Polytechnic University- Bucharest) and MSc in Mathematics (Bucharest University). As a visiting scientist, he performed research in the field of cholesterol metabolism University of Illinois at Urbana-Champaign (USA), where he succeeded to evidence a new pathway in the metabolism of oxysterols. He is an "Alexander von Humboldt" fellow and worked in Germany, in the Institute of Biochemistry (Kiel University), Max-Plack Institute for Physiological Chemistry (Dortmund) and Max-Planck Institute for Biophysics (Frankfurt) where he solved the crystal structure of PTP-SL/PTPBR7 catalytic domain, the first structure of a KIM-containing Protein Tyrosine Phosphatases PTP), and demonstrated the lateral dimerization of extracellular region of receptor-like PTP μ. Currently, Professor Szedlacsek and his team studies structure-function relationship in enzymes involved in cellular signaling. He has supervised numerous PhD and master's theses. Together with his group, he participated as Principal Investigator/Group Leader in the Marie Curie Research Training Networks - PTPNET; MRTN-CT- 2006-035830 (FP6), financed by the European Community. Also, he received a "P-CUBE TNA Project" Fellowship (FP 7- EU) from Oxford University (United Kingdom). Professor Szedlacsek was Project Coordinator for research consortia within a number of projects financed by the Romanian Research Authority.
Papers
. "Synthesis and characterization of a novel [52Mn]Mn-labelled affibody based radiotracer for HER2+ targeting", Inorganic Chemistry Frontiers, (2023)
doi: 10.1039/D3QI00356F
IF: 7.78AI: 1.01
. "Designed Peptide Inhibitors of STEP Phosphatase-GluA2 AMPA Receptor Interaction Enhance the Cognitive Performance in Rats", JOURNAL OF MEDICINAL CHEMISTRY 1520-4804(ISSN 0022-2623): 217–233, (2022)
doi: 10.1021/acs.jmedchem.1c01303
IF: 7.45AI: 1.58
. "Trojan horse treatment based on PEG-coated extracellular vesicles to deliver doxorubicin to melanoma in vitro and in vivo", Cancer biology & therapy 23(1): 1-16, (2022)
doi: 10.1080/15384047.2021.2003656
IF: 4.74
. "Regulation of TRPM8 channel activity by Src-mediated tyrosine phosphorylation", Journal of Cellular Physiology 235(6): 5192-5203, (2020)
IF: 4.52AI: 1.50
. "Biological and molecular modifications induced by cadmium and arsenic during breast and prostate cancer development", Environ Res 178: 108700, (2019)
IF: 5.03
. "Analysis of EYA3 Phosphorylation by Src Kinase Identifies Residues Involved in Cell Proliferation", International Journal of Molecular Sciences 20(24): 6307, (2019)
IF: 4.18
. "Crystal structure of a xylulose 5-phosphate phosphoketolase. Insights into the substrate specificity for xylulose 5-phosphate", Journal of Structural Biology 207(1): 85-102, (2019)
IF: 3.75
. "Collagen regulates the ability of endothelial progenitor cells to protect hypoxic myocardium through a mechanism involving miR-377/VE-PTP axis", Journal of cellular and molecular medicine 22(10): 4700-4708, (2018)
IF: 4.66
. "WDR1 is a novel EYA3 substrate and its dephosphorylation induces modifications of the cellular actin cytoskeleton", Scientific reports 8(1): 2910, (2018)

. "Expression, Purification, and Kinetic Analysis of PTP Domains", Methods in molecular biology (Clifton, N.J.) 1447: 39-66, (2016)

. "Phosphoketolases from Lactococcus lactis, Leuconostoc mesenteroides and Pseudomonas aeruginosa: Dissimilar sequences, similar substrates but distinct enzymatic characteristics", Applied Microbiology and Biotechnology 18(98): 7855-67, (2014)
IF: 3.34
. "Analysis of molecular determinants of PRL-3", Journal of cellular and molecular medicine 13(9B): 3141-50, (2009)
AI: 1.70
. "Expression, Purification, and Kinetic Analysis of PTP Domains", pp 39- 66, Protein Tyrosine Phosphatases, Rafael Pulido, (2016).
ISBN: 978-1-4939-3744-8
. "Time-Dependent or Steady-State Control of Metabolic Systems?", pp 251-258, Technological and Medical Implications of Metabolic Control Analysis, A.Cornish-Bowden and M.L.Cardenas, NATO Science Series, 3.High Technology, (2000).
ISBN: 978-94-011-4072-0
. "Kinetics of slow and tight-binding inhibitors", pp 144-180, Fundamentals of Enzyme Kinetics, Revised edition by Athel Cornish-Bowden, ACADEMIC PRESS INC, 525 B STREET, SUITE 1900, SAN DIEGO, CA 92101-4495, (1995).
ISBN: 1855780720
View all papers