Compound for inhibition of certain signaling processes related to the evolution of the cognitive processes
2017-2018
Acronym: Ctr.327/27.03.2017/Company CRU SRL, Medical Services Company/ Dunakesz, Hungary
Budget: 70.000 euro
Project director: Stefan Szedlacsek
External website:
full link
Molecular modeling of a set of peptides that can disrupt the GluA2-Cterm complex with STEP (Complex A) or BRAG2 (ComplexB).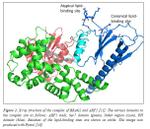 Initiation of AMPA receptor internalization requires the interaction of the C-terminus of GluA2 with two proteins:
a.) With STEP to dephosphorylate Tyr876 and
b.) With BRAG2 to activate the small GTPase Arf6. The main idea of ​​this project was that by inhibiting at least one of these two interactions of GluA2, the internalization of AMPAR will be reduced and therefore the synapse resistance will be increased, thus leading to improved cognitive functions.
The aim of this project was to generate 2-3 peptides with the potential to improve cognitive functions.