Marioara Chiritoiu-Butnaru, PhD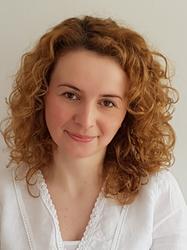 Department:
Molecular Cell Biology
Senior Reseacher III
Research interests: Membrane trafficking, Inflammation, Molecular neurodegeneration
Biography
Mari Chiritoiu graduated from Faculty of Chemistry, University of Bucharest (2004-2008) and received her Ph.D. in Biology from the Institute of Biochemistry of the Romanian Academy in 2014, under the supervision of dr. Stefana Petrescu. She was a posdoctoral fellow in the lab of prof. Vivek Malhotra, at CRG-Centre for Genomic Regulation, Barcelona, Spain (2016-2019) where she investigated the process of unconventional protein secretion using as model cargo the pro-inflammatory cytokine interleukin-1β. In the future, dr. Chiritoiu aims to understand key aspects of the molecular mechanism of leaderless protein export, such as interleukin-1β and α-synuclein, related to inflammation and neurodegeneration.
organiser of the eLife Ambassador Programme Romanian Community 2023
Science communication and outreach:
Papers
. "Editorial: Unconventional protein secretion: From basic mechanisms to dysregulation in disease", Frontiers in Cell and Developmental Biology, (2022)
IF: 6.08AI: 1.28
. "Targeting EDEM protects against ER stress and improves development and survival in C. elegans", PLoS genetics 18(2): e1010069, (2022)
IF: 5.90AI: 2.47
. "Linie celulara reporter pentru testarea activitatii unor modulatori ai sintezei si secretiei proteinei IL-1B", OSIM, (2022)

. "Affinity proteomics and deglycoproteomics uncover novel EDEM2 endogenous substrates and an integrative ERAD network", Molecular & cellular proteomics : MCP: 100125, (2021)
IF: 5.91AI: 2.26
. "Therapeutic potential of interleukin-15 in cancer (Review)", Experimental and therapeutic medicine 22(1): 675, (2021)
IF: 1.78
. "Dataset of human EDEM2 melanoma cells proteomics, affinity proteomics and deglycoproteomics", Data in brief 39: 107471, (2021)

. "EDEM1 Drives Misfolded Protein Degradation via ERAD and Exploits ER-Phagy as Back-Up Mechanism When ERAD Is Impaired", International Journal of Molecular Sciences 10(21): 3468, (2020)
IF: 4.10
. "Proteomics of regenerated tissue in response to a titanium implant with a bioactive surface in a rat tibial defect model", Scientific reports 10(1): 18493, (2020)
IF: 3.99AI: 1.90
. "Silencing the Cytoskeleton Protein Iba1 (Ionized Calcium Binding Adapter Protein 1) Interferes with BV2 Microglia Functioning", Cellular and molecular neurobiology, (2020)
IF: 3.80
. "Long-Term Evaluation of Dip-Coated PCL-Blend-PEG Coatings in Simulated Conditions", Polymers 12(3), (2020)
IF: 3.42AI: 0.90
. "GRASP55 and UPR Control Interleukin-1β Aggregation and Secretion", Developmental cell 49(1): 145-155.e4, (2019)
IF: 9.19
. "Unconventional secretion of FABP4 by endosomes and secretory lysosomes", The Journal of cell biology 217(2): 649-665, (2018)
IF: 8.89
. "Inhibition of N-glycan processing modulates the network of EDEM3 interactors", Biochemical and biophysical research communications 486(4): 978-984, (2017)
IF: 2.56
. "Chemokine (C-X-C motif) ligand 1 (CXCL1) and chemokine (C-X-C motif) ligand 2 (CXCL2) modulate the activity of TRPV1+/IB4+ cultured rat dorsal root ganglia neurons upon short-term and acute application", Journal of physiology and pharmacology : an official journal of the Polish Physiological Society 68(3): 385-395, (2017)
IF: 2.48
. "Antimicrobial polycaprolactone/polyethylene glycol embedded lysozyme coatings of Ti implants for osteoblast functional properties in tissue engineering", Applied Surface Science 417: 234-243, (2017)
AI: 0.60
. "Biocomposite coatings based on Poly (3-hydroxybutyrate-co-3-hydroxyvalerate)/calcium phosphates obtained by MAPLE for bone tissue engineering", Applied Surface Science 417: 204-212, (2017)
AI: 0.60
. "Long-term exposure to CXCL2 has cytotoxic effects on HEK293T cells stably expressing TRPV1", Romanian Biotechnological letters, (2017)

. "Laser deposition of poly(3-hydroxybutyric acid-co-3-hydroxyvaleric acid) - lysozyme microspheres based coatings with anti-microbial properties", International journal of pharmaceutics 521(1-2): 184-195, (2017)
AI: 0.80
. "Tyrosinase degradation is prevented when EDEM1 lacks the intrinsically disordered region", PloS one 7(8): e42998, (2012)

. "C-terminus glycans with critical functional role in the maturation of secretory glycoproteins", PloS one 6(5): e19979, (2011)
IF: 4.09AI: 1.80
View all papers
Grants
High-throughput screening platform for small-molecules with anti-inflammatory potential
2020-2022
Acronym: HTS-IL-1β
Budget: 600.000 RON
Project director: Marioara Chiritoiu-Butnaru
This project aims to develop a sensitive high-throughput screening platform by generating an endogenously tagged interleukin-1β reporter cell line by CRISPR-Cas9 technology, able to monitor stimulated IL-1β secretion with the purpose to identify new chemical compounds with anti-inflammatory activity that will be validated in primary macrophages and a mouse model for sepsis.
Molecular mechanisms of protein aggregation and unconventional secretion in the context of inflammation and neurodegenerative disorders
2021-2023
Acronym: AggrInflam
Budget: 431.900 RON
Project director: Marioara Chiritoiu-Butnaru
This project aims to understand the molecular events associated with protein aggregation and how a Golgi located protein along with the UPR pathway modulate this process. Model proteins such as IL-1β and α-synuclein, previously shown to aggregate will be employed for these studies. Achieving the objectives of this project should facilitate the understanding of the signaling pathways and the sequence of events correlating the stress sensing machinery with cytoplasmic proteome instability.