Mari Chiritoiu, PhD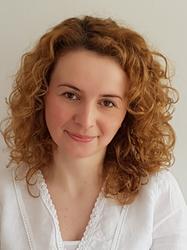 Department:
Molecular Cell Biology
Senior Reseacher III
Research interests: Membrane trafficking, Inflammation, Molecular neurodegeneration
Biography
Mari Chiritoiu graduated from Faculty of Chemistry, University of Bucharest (2004-2008) and received her Ph.D. in Biology from the Institute of Biochemistry of the Romanian Academy in 2014, under the supervision of dr. Stefana Petrescu. She was a posdoctoral fellow in the lab of prof. Vivek Malhotra, at CRG-Centre for Genomic Regulation, Barcelona, Spain (2016-2019) where she investigated the process of unconventional protein secretion using as model cargo the pro-inflammatory cytokine interleukin-1β.
In the future, dr. Chiritoiu aims to understand key aspects of the molecular mechanism of leaderless protein export, such as interleukin-1β and α-synuclein, related to inflammation and neurodegeneration.
Grants
High-throughput screening platform for small-molecules with anti-inflammatory potential
2020-2022
Acronym: HTS-IL-1β
Budget: 600.000 RON
Project director: Mari Chiritoiu
This project aims to develop a sensitive high-throughput screening platform by generating an endogenously tagged interleukin-1β reporter cell line by CRISPR-Cas9 technology, able to monitor stimulated IL-1β secretion with the purpose to identify new chemical compounds with anti-inflammatory activity that will be validated in primary macrophages and a mouse model for sepsis.
Molecular mechanisms of protein aggregation and unconventional secretion in the context of inflammation and neurodegenerative disorders
2021-2023
Acronym: AggrInflam
Budget: 431.900 RON
Project director: Mari Chiritoiu
This project aims to understand the molecular events associated with protein aggregation and how a Golgi located protein along with the UPR pathway modulate this process. Model proteins such as IL-1β and α-synuclein, previously shown to aggregate will be employed for these studies. Achieving the objectives of this project should facilitate the understanding of the signaling pathways and the sequence of events correlating the stress sensing machinery with cytoplasmic proteome instability.