Cristina Stefana Orobeti, MSc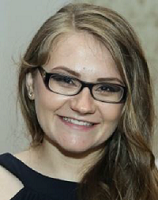 Department:
Molecular Cell Biology
Research assistant
Research interests: Biomaterials, In vitro testing, Human mesecnhymal stem cells, Lab-on-a-chip
Biography
2012-2016: Bachelor degree on Applied Engineering Sciences, Biomaterials and Medical Devices Specialisation, Faculty of Biomedical Engineering, Polytechnic University of Bucharest Romania. 2017-present: Master student at Smart Biomaterials and Applications Programme, Faculty of Medical Engineering, Polytechnic University of Bucharest Romania. 2016-present: Research assistant at Center for Advanced Laser Technologies Department, National Institute for Laser, Plasma and Radiation Physics (INFLPR), Magurele, Romania. 2018-present: Research assistant at Molecular Cell Biology Department, Institute of Biochemistry of the Romanian Academy, Bucharest, Romania.
Grants
Role of TG2 in cancer tumor microenvironment for guiding metastasis prevention therapeutic approaches
2020-2022
Acronym: TG2TARGET
Budget: 431,900 RON
Project director: Livia Sima
The overall goal of the current project is to understand the impact of tissue transglutaminase (TG2) targeting in the context of ovarian cancer (OC) tumor microenvironment (TME). Our aproach is aimed at testing the hypothesis that interventions in targeting TG2 in the OC TME will disrupt pro-tumorigenic signaling cross-talk within tumors.